Author: Adrienne, Katie and Jaimee Keogler
Publisher: Get creative 6, an imprint of Mixed Media Resources.
Age Range: 3  – 7
This is one of those brilliant Catholic books that I wish I could buy for thousands of children to hold and gaze at. The premise is simple – an ABC book that features beautiful classical art.  Each of the paintings that is featured is related to a letter of the alphabet.  As the author has noted, this book serves as a little "catechism" as it provides simple Catholic truths on each page.
Here are some examples:
Kk King Christ now reigns in Heaven; He is King of the Universe.
Ee Eucharist Jesus in the Eucharist is our life-giving bread.
The details of paintings that are showcased are gorgeous.  Glossy pages and high-quality production make this little book an absolute winner.  Each painting's title, artist and year is provided with an index of paintings at the end of the book which provides more information. There is even a note from the author about how to prompt children to engage more fully with the artwork and the concepts.
Some of the concepts are of course complex but asking children to recite the words with you so that they become used to words such as "Eucharist", "ordained" or "resurrection" is an excellent way of beginning the process of indoctrination into our faith. Younger children will be drawn into the story of each painting and enjoy talking with you about what is happening.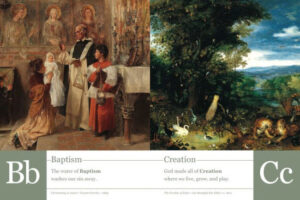 So art teachers, religion teachers, parents, grandparents and anyone else involved with the important task to teaching young children about the Catholic faith – why not start with this book?  My only suggestion to improve upon this book would be to make it larger so that the details of the artwork are easier to see.  But the smaller size will actually make it easier for children to hold and manage.
Highly Recommended!  You can buy A is for Angel HERE
Homeschool and Teacher Ideas:
I would probably choose one painting to explore in more depth.  For example, F – Father God is our father.  The angels playfully hang off fluffy cloudes and play around the feet of God the father.  Ask children to identify what each cherub is doing – what game are they playing. What are their names?  If you were an angel in this painting, which one would you be?  Why? Make up a story about what is happening in the painting. What sort of Father is God the Father?  What is God the Father doing in the painting?
From there children might be inspired to write a short story or draw some pictures to illustrate their story.
In the same way, I would probably choose another picture another day and explore thT topic.  This really is a gem of a resource for teachers, homeschoolers, and parents.