Author: Hong Phuoc Nguyen
Publisher: self-published
Illustrator: Hong Phuoc Nguyen
Age Range: 0 – 4
Doctor Hong Phuoc Nguyen was frustrated about the lack of Catholic oriented books for her little ones, and so she decided to do something about it!  And now we have these wonderful board books written and illustrated by Doctor Hong.  They really are unique and clever little board books that children will love.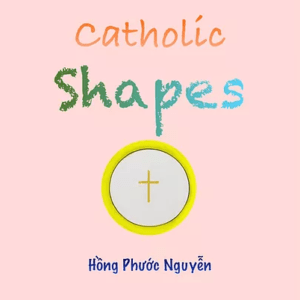 Catholic shapes is a twelve page board book that provides simple shapes for young children – circle for the Eucharist, square for the tabernacle and triangle for the Trinity.  What a great way to introduce your children to these core ideas of Catholic teaching.
Catholic 123 presents numbers 1 – 10 using key ideas from the Bible or Catholic tradition.  For example, 7 churches (7 letters to churches form Revelations), 3 wise men, 9 fruits of the spirit. Another great example of indoctrinating young children into our Faith.
Catholic Opposites is a favourite of mine.  Along with Light and Dark, and Boy and Girl, there is a cute picture of Baby Jesus (young) next to a picture of an ageing Pope (old).  How clever is that!  You can have great conversations with your little ones about the Pope and Baby Jesus all in one page!
You will find the colours vibrant and the drawings simple – perfect for small children.  Each book is small and short which make them easy for young children to hold and 'read'.
Doctor Hong Phuoc Nguyen is from my own hometown, Geelong.  She is an inspirational woman who is really living out her Faith.  Doctor Hong Phuoc Nguyen made headlines because she will only provide medical services that align with her Right to Life belief systems – a courageous and brave Catholic woman!
Why not support Doctor Hong by purchasing her little books.  If you live outside Australia it would be advisable to check exchange rates and postage before you finalize your purchase. You can find these wonderful board books HERE.
I've also found that Barnes and Noble have a compilation paper back version HERE:
Check out Dr Nguyen's website here, especially the gorgeous reading of one of her board books: HERE
https://childrencatholic.wixsite.com/books