Author: Corinna Turner
Publisher: Unseen Books USA, an imprint of Zephyr Publishing.
Age Range: 14 and up
As with all the books I've read by this brilliant young Catholic author, I thoroughly enjoyed Do Carpenters Dream of Wooden Sheep. A fast paced and clever story aimed at teens, you'll love this fresh take on the story of Mary, Joseph and Jesus.
As the story commences we meet Razim , who is caring for his very sick friend Daniel. We learn that Daniel has leukemia, and is undergoing chemo.   After the two friends watch Bladerunner together, Razim fishes about for something to read and finds The Tale of Mary and Joseph.  It seems that Razim falls asleep and he dreams a strange dream that combines Bladerunner with The Tale of Mary and Joseph.  What a great idea from author, Corinna Turner.
Once the dream sequence began, I was quickly immersed into the world of main character Cleopas, who is the fictional younger brother of Saint Joseph.  It's the mark of a good storyteller that futuristic Nazara (Nazareth) was brought to life so quickly for the reader.  Nazara is a politically volatile and difficult place for Joseph and Cleopas to live.  Luckily, Joseph is able to use his skills as a carpenter to carve out a living for the two brothers.
The portrayal of Joseph is well crafted.  He is an upright, humble man whose gentle demeanour tends to mask his determination and commitment.  Joseph doesn't rant and rave when uncertain or in doubt; he reflects and prays. He steadfastly carries out his duties – to God, to his brother, to Mary and to baby Isus (Jesus). He is a traditionalist. He has great trust in God. Joseph falters only once, when he comes to understand that God wants him to be the human father of Jesus on Earth. Joseph struggles with his sense of unworthiness.
In contrast, I loved the character of Cleopas.  He is exuberant, spirited and endearingly cynical by nature. But Cleopas has the utmost faith in Joseph. Joseph is his steadfast older brother who has been his protector and provider.
It was fun to read about Mary and Joseph traveling off to Bethlehem on a hover bike, amongst a large group of travellers for reasons of safety. Times are tough.  There is political discord, violence on the streets, danger lurks all around them.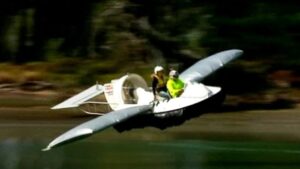 Stuck in Bethlehem for ages because it is too dangerous for Joseph and Mary to travel home, Cleopas continues working and living on his own but secretly wrestles with his conscience.  He resents Mary's intrusion into his life – taking Joseph away from him. But Cleopas continues to work and save and hope that Mary and Joseph will return one day soon.
I loved the excitement generated by Cleopas's journey to Egypt to meet Joseph and Mary as they flee to safety.  I also enjoyed reading about Cleopas's struggles to fit into a new place where he can't even speak or read the language properly. In his usual way he plods off to find work every day, only to find himself in some sort of inevitable strife and trouble.
This is a joyful book to read despite the drama and danger that surround the main characters.  They love each other and bravely meet every challenge thrown at them. The characters are cleverly drawn and well sustained throughout the novel.  Joseph is a young man who honours and protects his wife, while remaining steadfastly obedient to God.  Readers will identify with Cleopas's frustrations, fears and occasional flashes of temper.
The story continues after Cleopas marries a female Egyptian security officer and they all return together to Nazara.  We fast forward through the years as children are born and Cleopas continues to work with Joseph, raising their families together.  Sadly, Joseph passes away with his family around him, and Cleopas wonders what sort of work Isus (Jesus) will do now.
The major part of this story is a dream sequence, and the final chapter is a return to the present day character of Razim, who is still watching over his desperately sick friend, Daniel.   In an impulsive act of solidarity with his friend Daniel who lies bald and sick from chemo, Razim decides to shave his head.  He clicks on the electric razor and falters.  Drawing courage from the characters of Joseph and Cleopas from his dream, he runs the razor over his head.  Young readers will love the final lines of the story:
"Hair spills into the sink.
Let's hope Joseph is the patron saint of skinhead gangs.
And mad acts of friendship."
There is a wealth of information and further resources at the conclusion of the story.  Questions are provided to generate discussion and reflection, followed by a consecration and novena to Joseph.  The book concludes with the complete scriptural account of the story of Joseph, Mary and Jesus. What more could you ask for?  Teachers and homeschoolers will love this book!  Teens and adults alike will also enjoy delving into this well-rounded (fictionalized) account of the Holy Family's life.
You can purchase the book HERE.