Author: Tomie DePaola
Illustrator: Tomie DePaola
Publisher: Simon and Schuster Books
Age Range: 4 – 8
Originally published in 1978, this picture book is different to most. Tomie DePaola has enjoyed a loyal following of readers for decades. Reviewers of his work speak of DePaola's care and attention to detail and the authentic beauty of his books. In this book, The Clown of God, DePaola has captured an ancient tale set in early renaissance times and carefully reproduced it as a children's picture book.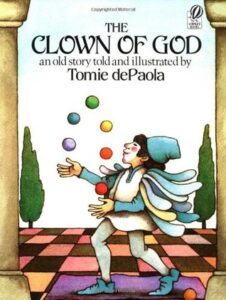 I enjoyed the simple tale of a street urchin who learns to juggle and develops his craft so that he entertains royalty and wanders the land, carefree and happy. His encounter with two Franciscan monks who congratulate him for doing the work of God by bringing smiles to people's faces gives the Clown something to think about.
The story takes a sad turn as DePaola describes how the ageing Clown begins to lose his touch and is quickly out of favour. Times change. The Clown grows old. There are not many children's stories in this day and age that portray the inevitable sadness of ageing. I can imagine that some adults will not approve of how the story ends – the Clown dies. He drops dead after an exciting final performance in front of a statue of Our Lady holding Jesus in her lap.
The death of the clown is sudden and will not be expected by most children. But then the miracle occurs – the statue of the child Jesus is smiling and holding one of the Clown's juggling balls. So ultimately this is a story of joy, despite the sadness of the Clown's earthly experiences. He gave his final performance to bring a smile to the face of the child Jesus.
There is something timeless about the ancient tale as told here by DePaola. Perhaps we underestimate our children by not telling stories about how people live, struggle and ultimately die. There is plenty to talk about as you read through this story with children. DePaola has illustrated the story in his own lively style with particular attention to the architecture and dress of early renaissance times.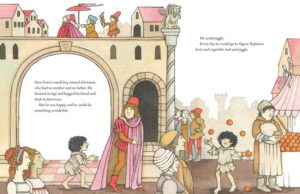 I recommend this children's book but would take time to read it to youngsters and talk with them about its themes. It is certainly Catholic with references to monks, churches and statues of Our Lady and Jesus. The ultimate theme of "everything sings the glory of God… even your juggling" is a good one to explore with your children.
An older telling with DePaola's illustrations here: https://www.youtube.com/watch?v=tRxf9RpUswM
You can buy The Clown of God HERE.
Homeschool and Teaching Ideas:
The theme of "everything sings the Glory of God" is a joyful one to share with your children:
What are their special talents that God has blessed them with (dance, sing, draw, be friendly, read, wash the dishes etc)
How can they use them to the greater Glory of God? (helping out at home, putting on a concert for elderly people, inviting someone lonely over, baking a cake for someone etc)
Talk to children about how they can dedicate their talents and actions to God. Help them write a short prayer to recite.
You might pair this book with Lisa Hendey's I Am God's Storyteller which also celebrates the gifts and talents that God gives us HERE
Death through the lens of Faith:
https://thecatholicspirit.com/news/local-news/explaining-death-to-children-through-lens-of-faith/
This article may help you manage questions about death and dying from a Catholic perspective.